Grinding your coffee right before you brew it is probably the best thing you can do to improve the quality of the coffee you make.
And, to cut right to the chase, when choosing a coffee bean grinder you have two options:
There are many good reasons to choose a manual coffee grinder over an automatic one. If you are interested, check them out in our manual coffee grinder roundup.

This article will focus on the best automatic coffee grinders for home use on the market. These are our top picks:

Maybe, you don't feel like reading this long piece on coffee grinders. Well, if you take my word for it, I think if you are looking for an automatic coffee bean grinder, your best option is to buy the:

But still, if you are in the market for a (new) automatic coffee grinder, it's good to see what's out there. So, here we go:
What are automatic Coffee bean grinders?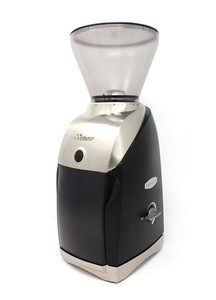 In my opinion, the best value for money automatic coffee grinder. It would even hold it's own in a small professional coffee bar. I own it, I love it.
For many years, manual coffee grinders have been the primary tool to make consistent fresh-ground coffee. Only in the last decade the latest models of automatic coffee grinders took over the home brewer market. Automatic coffee grinders now offer more control and precision at a price point reasonable to the home brewer.
There are enthusiasts of manual coffee grinding who still need some convincing, but at this point, the quality, convenience and prices are no longer an obstacle. There will always be a time and a place for manual coffee grinders. But I think any coffee enthusiast will consider buying an electric coffee grinder at some point. 
Now, the first thing you need to notice in the latest automatic coffee grinders is how the adoption of the blade vs. Burr grinding methods have been infused. We are going to look at the two grinding methods in automatic coffee grinders.
Let's start at the beginning, though. Why should you grind your own coffee?
Why do i Need A Coffee Bean Grinder?
If I say to you: "You need to grind your coffee fresh before brewing!"
A very reasonable thing for you to say would be: "Why, Monsieur Coffee? Why?!"
Well, let me tell you why
After coffee beans are ground, the grounds lose a large part of their aroma within one hour. The main reason for this is something called: oxidation. The easiest way I can explain it is like this:
Roasted coffee beans (whole and ground) contain oils and other sorts of aromatics. When these get into contact with oxygen they start to dissipate and eventually (in the case of the oils) go rancid. Coffee manufacturers try to keep their ground coffee as fresh as possible. For instance, they grind the coffee beans shortly after they are roasted and use the best vacuum sealed packaging available.
But still, nothing beats freshly ground coffee. It will always contain more of the original oils and aromatic compound. As said, this is the single most important factor in improving the quality of your brew.
I hope it's convincing enough. I really think you should buy a coffee grinder before you start to look at all of the fancy ways you can make coffee. Even using freshly ground coffee in a regular, really cheap drip coffee maker will make a big difference.
Now that you are convinced you need a coffee grinder (just kidding), let's review what to look for in a good quality grinder
What should i look for in an automatic coffee grinder?
When you start to look for an electric grinder you will probably find that the cheapest option is to buy a small blade grinder (like this one). While it is nice to have a option when you are on a really tight budget, I wouldn't recommend a blade grinder.

Just as the name suggests, in a blade grinder, sharp blades in the grinder rotate quickly and cut the bean.

A blade grinder 'whacks' the beans to pieces. This results in very inconsistent grind. The problem with an inconsistent grind is that it contains larger and smaller pieces of coffee bean. The larger parts will not give all their flavor to the brew, while the smaller parts will result in a more bitter brew. In short, an inconsistent grind has a negative effect on the taste of your coffee.In my opinion, blade grinders are more suitable for grinding spices used in cooking. For coffee, go for a burr grinder.

In burr grinders, there are two oscillating serrated plates (burrs) that crush the coffee to the grind size you need. You are usually able to adjust the space between the burrs to set the size of the grind needed for the type of coffee you make. A grind for a French Press coffee is coarse, while an espresso grind needs to be really fine.
There is one final thing that you need to look for in a burr grinder. Ceramic burrs. Some grinders are equipped with burrs made of stainless steel. Stainless steel burrs grind the beans just fine. Usually, there is no difference between a grind from a stainless steel burr and a ceramic burr. But there is another big difference. Stainless steel burrs are usually less durable and harder to clean.
An automatic coffee grinder always has a feature that allows you to set the size of the grind. All grinders in this articles have plenty of options to set the burrs to produces the desired grind size. The quality of the grinder comes into question when you either need really a really coarse grind (for a French Press), or a really fine grind (for an espresso grind). Check whether the grinder you choose can produce a consistent coarse grind if you intend to use a French Press to make your coffee. A grinder with an unstable burr setup might produce a lot of fines on a coarse setting. Fines in your coffee grounds will result in a more bitter tasting coffee and small grounds of coffee in your cup (yuk!). When you intend to make espresso the grinder needs to be able to handle the finest of setting. An extremely fine setting puts a lot of stress on the machine. If the motor of the grinder is not powerful enough, it might become too hot or even jam.
The main difference in the way you tune in your grind settings is the difference between a 'stepped' and a 'stepless' grinder. The stepped grinder has a number of fixed grind settings and a dial that clicks into place at each setting. A stepless grinder has a free moving dial that allows for an unlimited number of setting. Although a stepless grinder is more flexible, I find a stepped grinder to be more consistent. With a stepped grinder you are able to dial in the exact grind size for the brew method you use every time. So, when you use a French Press you can always and exactly dial in that grind size that works best (one of the coarser steps), say step 37 out of 40. When making an espresso you can choose the particular fine setting you like, say 3 out of 40. In my book, consistency beats flexibility.
Prices Of Automatic Burr Grinders
There are varying prices for automatic grinders. High volume and feature packed grinders are more expensive that simpler ones. If your budget is limited, a manual coffee grinder might be a good option to consider. You can get a great manual coffee grinder for a very reasonable prices. You just have to put in some elbow grease and grinding coffee for multiple cups is a pain in the behind.The manual grinders we looked at (see: 'Best Manual Coffee Grinders') can be found from $30 to about $100. Our top pick for automatic coffee grinders range from $150 to $500. 
Now that you have an idea of what to look in a coffee grinder, we are going to look at the best automatic coffee grinders in the market.
Best Automatic Coffee Bean Grinders: Reviews
Baratza Virtuoso Coffee Bean Grinder
The Baratza Virtuoso is the second burr coffee grinder in the Baratza line. It is more expensive than the Baratza Encore (which we'll discuss next) and about half the price of the Baratza Vario (which will discuss after the Encore). It has a 40mm conical burr with 40 grind settings.

The Virtuoso 586 produces a consistent grind size that can suit the various brewing methods.
It is exceptional for a drip coffee maker, various manual brewing methods, French Press, and espresso.
The conical burrs are durable with a precision mounting system to ensure a stable platform for accurate grinding. The Virtuoso's speed control uses electric and gear speed reduction to control the burr rotation up to 500 RPM. This coffee grinder has a 60-second timer with segmented graphics. The grind settings allow for a grind size that ranges from 250 to 1200 microns. You have 40 different settings, so the grind settings are 'stepped'.
The Baratza Virtuoso has a powerful, high torque DC motor that turns slowly. A slow turning motor results in a cool and relatively quiet operation. This allows for longer grinding session, but it is not as speedy as a faster motor. The slow motor also builds up less static.
The grinder lacks features that can be found on more expensive models. Things like build in scales and programmable grind settings. To me, those things are extra's I don't want or need. I like to keep things simple. The Virtuoso has great burrs, a stable, consistent motor, and a solid body. That's all I need.
As you might have seen at the beginning of this article: the Baratza Virtuoso is my favorite automatic coffee grinder. At the risk of being a fanboy: I love it! 
I have one at home and I use it daily. It has never failed me. When you are looking for a simple elegant, versatile, consistent and very affordable automatic coffee grinder, look no further.
Pro's and cons of the baratza virtuoso
Bartaza Encore Coffee Bean Grinder
The Baratza Encore is the more affordable grinder in the Baratza line-up. Cheaper than bot the Baratza Virtuoso and the Baratza Vario. Despite the lower price it still produces a really consistent grind. As the Virtuoso it has a 40 stepped grind settings dial that you can adjust from coarse for French Press to fine for espresso.

It also has a grind range from 250 to 1200 microns.

Sit has the same kind of motor which makes is slow (a good thing!) and relatively quiet. The build quality is not as good as the Virtuoso but still alright.

The main difference with the Baratzo Virtuoso is the quality of the burrs and the burr stability. The Encore seems to produce more fines when grinding which can result in a more bitter flavor in your coffee. This is especially an problem on coarser settings. The difference compared to the Virtuoso is very small though and only noticeable on the coarsest of grind.
The Encore is a great upgrade when you come from a blade grinder. This is the best automatic coffee grinder for people on a budget, who still want a good and versatile grinder.
Pros and cons of the baratza encore
Baratza Vario Coffee Bean Grinder
The Baratza Vario is the premium model from the Baratza line-up. And that shows in the price tag. It is more than twice as expensive as the Virtuoso and a whopping four times the price of an Encore. For a hefty sum you'll get a (mostly) fantastic coffee grinder. It looks amazing, the build quality is great an the grind consistency is very good. It is also quite a bit faster than the two other Baratza modes. It grinds 1.6 grams of espresso sized grind per second and 2.2 grams of French press sized grind per second.

The Vario has 230 stepped grind settings. The macro/micro-adjustments make it easy to get the perfect espresso finish. The lever allows you to switch from espresso to different coffee styles. It has a digital timer and programmable buttons that allow you to preset you favorite grind sizes.And get this, it has a build in scale! It grinds you coffee beans based on the weight you enter. This means you can grind the exact amount you need for a single or couple of cups of coffee. Vario's 54mm ceramic flat burrs offer fast-grinding process and remain sharp for a longer time, twice as long as other grinders. 

All in all, the Baratza Vario is a very nice grinder with huge set of possibilities. But, it is expensive. Now, if you are a gadget freak, don't want to forgo the wide range of possibilities to adjust grind size, and have the budget: this is a great grinder. In terms of the quality of the grind, I'm not so sure whether the price tag is warranted.
Pros And Cons Of The Baratza Vario
Brevill Smart Grinder Pro Coffee Bean Grinder
The Breville Smart Grinder Pro is a coffee grinder that tries to improve on other designs on the market. It is able to has been built with plastic and stainless steel and it weighs 5.5 pounds. It is small, therefore, takes up a small space on your counter. On the outside the design is attractive and it comes in three colors: cranberry red, black sesame, and silver.

The Breville Smart Grinder Pro is a feature packed device with 60 grind setting and a dial that is a hybrid with stepped and stepless. 

The quality of the grind is fairly consistent, but it seems unable to produce a good fines-free French Press grind.

My biggest problem with the Breville is the durability of the machine. Whether it is a design problem or subpar quality control by the manufacturer, a lot of these machines seem to break. Still, for the price of a mid-range grinder you can get the features of a higher end grinder. If you are willing to take the risk.
Pros And Cons Of The Breville smart grinder pro
Rancillo Rocky SD Coffee Bean Grinder
The Rancilio SD is an Italian made coffee grinder and is outfitted with commercial grade burrs. Every Rancilio coffee grinder is factory tested and you might actually find some bean dust within. It is among the most commercial like home grinders in the market.

It has a metal removable fork that holds your portafilter in place. Rancilio SD grinds directly to your portafilter. Unfortunately, it doesn't come with a collection bin, so you have to put something underneath the chute to catch the grinds.

The motor is a 166-watt direct drive that is powerful but also quiet. Not as quiet as the Baratza's, though. It contains simple controls such as the grind setting to unlock the lever and spin the bean hopper. The Rancilio SD has 40 settings for grinding, though the control can be adjusted to beyond the 40 settings to close to 55.

There is one issue with this grinder. Some buyers have reported that the machine tends to get clogged with ground coffee. Especially the grounds from oily, dark roast coffee beans tend to get stuck in the chute. Something to keep in mind.
Pro's And Cons Of The Rancilio Rocky SD
As we said in the beginning, the five grinders we reviewed here are all top of the line for home brewers. They are truly the best automatic coffee grinders on the market.
Still, I have to come clean and say that I have a clear favorite. The best automatic coffee grinder is, in my opinion, the Baratza Virtuoso. It offers great build quality, impressive grind results at a really reasonable price. Combined with the fact that is relatively quiet (which is important in a house with a little baby), makes the Baratza Virtuoso my personal favorite.
May the brew be with you!
Monsieur Coffee